Intro
At St. Lawrence Outfitters Inc. we are proud to offer our hunters a nearly endless supply of waterfowl hunting opportunities. Due to our unique location, long season and variety of birds we are able to offer many different types of waterfowl hunting experiences. Whether hunting one of our fields for Canada Geese, Snow Geese or Mallards, gunning a buck brush swamp for wood ducks and teal or hunting the big water of the St. Lawrence River for Mallards, Divers and Geese, our hunters enjoy a wide variety of world-class waterfowl hunts.
Canada Geese
Season Dates:
Early Season: Sept 6th-Sept 16th (10 bird Limit)
Regular Season: Sept 22-Dec 26th (5 Bird Limit)
Late Season: Feb 23rd-March 2nd (10 Birds Limit)
(Season Dates are approx)
Peak Time: Best Canada Goose hunting is October to the end of November however we have plenty of birds until the end of the regular season.
Canada Goose hunting is what we're known for at St. Lawrence Outfitters. Eastern Ontario is one of the largest staging areas in the world for Canada Geese with nearly 500,000 birds using the area throughout the season. The area is home to thousands of resident geese during the summer months and early September. Major migrations of fall geese begin in late September with unbelievable numbers of birds using the area from October through late November. Even when the big numbers have migrated south there are still several thousands of birds that remain until the bitter end and only migrate when forced to my snow cover and ice on the river.
The majority of our goose hunting is done on agricultural land. We have access to thousands of acres of prime goose hunting land. We hunt a mix of feeder fields and traffic fields depending on the type of hunt our guests choose. Our feeder fields are well scouted by the guides before we hunt them. Our traffic fields are areas with large numbers of birds flying over them on a daily basis.
We also offer a variety of water hunts for Canada Geese which are always popular with our hunters. We have several small ponds and quarries as well as miles of the St. Lawrence River. Hunting on the water is mainly a traffic hunt because we don't believe in hunting the actual roosting areas.
Field Hunting Options:
We offer several types of field hunting options in terms of blinds and set-up, depending on the time of the season. September through late October has most of the hunting being done from a mix of standing corn, portable hedgerow blinds and fixed hedgerow blinds. These hunts are very easy and not physically demanding. Hunters will be sitting comfortably on chairs or stools and shoot from the standing position. From late Oct through late November most of our field hunting is done from layout blinds which do require hunters to be laying down and shooting from that position. We advise people to consider these options when choosing their hunting dates. For hunters who don't enjoy hunting from layout blinds or have physical limitations that makes this type of hunting difficult, please consider booking during late September and October. Our December hunts are a combination of layout blinds and fixed comfortable hedgerow blinds (with heaters).
The guides will utilize large spreads of decoys and their wonderful calling abilities to decoy birds within shooting range. Most shooting is from 15-30 yards.
Duck Hunting 
Season Dates:
Sept 22nd – Jan 6th (6 birds)
Peak Times:
Wood Ducks /Teal Sept 22nd-early/mid Oct
Mallards- Nov – Season Close
Divers – Nov-Season Close
Goldeneyes – Dec/Jan
Our area offers a wide variety of duck hunting opportunities throughout the fall. At various times we'll have great field hunting for mallards. Weather plays a huge role in our field hunting. Rain and standing water in the fields will draw mallards out of the flooded swamps and bring them to the fields in good numbers. Or when it's cold and the inland waters are frozen then the mallards need to feed on the corn. Usually when mallards are using the fields there will be plenty of geese as well so it sets up well for a great shoot of both ducks and geese.
Most of our duck hunting is done over water earlier in the season in flooded swamps, inland lakes, rivers and small creeks. Later in the season we mainly hunt the St. Lawrence River and Lake Ontario. Hunting is done from a combination of fixed shore blinds, river blinds, islands, and boat blinds.
We have a great mix of species in our area depending on the time of the year, including: Mallards, Blacks, Wood Ducks, Teal, Gadwalls, Wigeon, Pintails, Blue Bills, Red Heads, Goldeneyes, Buffleheads, Long-Tail Ducks and Common Mergansers.
Sink Box Hunting:
New for 2012: We are offering Sink Box hunts for Divers. This is a very unique hunting experience and a lot of fun. Sitting at eye level to the water gives a unique view and perspective to the incoming birds. Shooting is fast and close range. It usually takes a little getting used to but once hunters have figured out their leads it's a lot of fun.
Greater Snow Goose Hunting
Season Dates:
Fall- Sept 22nd-Dec 26th
Spring – March 1st – May 31st
Peak Times:
Fall – Mid Nov –Christmas
Spring – Mid March – End of April
Over the last 5 years Eastern Ontario has experienced an explosion in the number of Snow Geese both during the fall and the Spring . The Spring of 2012 was the first time a Spring season was introduced in Ontario. During the fall of 2011 we started offering Greater Snow Goose hunts for the first time with great success.
Fall hunts averaged 45 birds per hunt using 400-500 decoys and e-callers. Birds worked and decoyed very well; at times with a thousand birds cycloning into the decoys. During the fall we mainly use layout style blinds.
When Snow Goose hunting, it's appreciated if the hunters realize the work involved and lend a hand in the setting up and picking up of the spread.
We will also be offering a limited number of water hunts for Snow Geese during fall.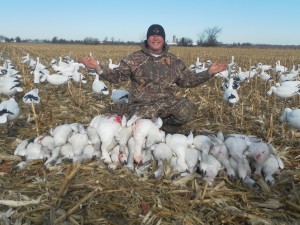 Spring Snow Goose hunting is a much different hunt than during the fall in terms of success rates. During the fall we hunt more juvenile birds and they decoy very well. In the spring the birds have been pressured all the way down the flyway and back up the flyway before they get to us. Essentially the season never ends on Snow Geese because they are hunted everywhere they go and become very wise. It's also important to note that we are hunting Greater Snow Geese, which are different birds from the Lessers which are found in Western Canada.
During the Spring we hunt both in Ontario and Quebec following the birds on their northern migration. We use a spread of 1200-1500 decoys and e-callers. Hunting is primarily done wearing white tyvek suits laying on layout style blinds. Success during this past spring ranged from 3 birds to 40 birds per day.
For spring hunts we strongly recommend a 3 day trip to increase your chances of getting into at least one great day of hunting. For hunters considering a Spring Snow Goose hunt it's important to understand that while the limits are 20 birds per day, don't expect limit shoots. It's just the nature of Spring Snow Goose hunting. However the Spring hunt is a lot of fun and it's a great time to get out hunting during the off season. It's a great sight to see thousands of Snows as well as endless Canada Geese and ducks. Snows are also a lot of fun to watch work the decoys. They work much differently than Canada Geese and when the shooting is good it's a very rewarding hunt.
During the fall on a multi-day trip, mixing in some Snow Goose hunting is a great addition to our outstanding Canada Goose hunting.
Accommodation:
We have a great partnership with the McIntosh Country Inn located in Morrisburg, Ontario. The standard hunt packages include lodging and meals with the Inn. The hotel is nicely appointed, very hunter friendly and dogs are welcome. There are two restaurants on-site.
Our packages are based on double occupancy. Individual rooms are available upon request and for an additional charge.
Rates:
Spring Snow Goose – Hunt Only – $225+HST per gun per day
(We will help arrange accommodation based on where we'll be staying)
Early Season / Late Season Canada Goose – Sorry no Availability
Fall Rates: Canada Geese, Snow Geese, and Ducks
3 Day Standard Waterfowl Hunt – Including 3 nights lodging, 2 meals per day and 3 morning hunts – $1200+ HST
3 Day Deluxe Waterfowl Hunt – Including 3 nights lodging, 2 meals per day, 3 morning hunts and 2 afternoon hunts – $1400 + HST
Typically our hunters choose 3 day trips but any length of trip is possible.
1 Day Hunt – Includes only hunting, no lodging or meals included – $250 per gun + HST
(1 Day Hunts are subject to availability)
Afternoon Hunting or Fishing – $100 per person + HST
Sink Box Hunts -$100 extra per day per gun
Bird Process – $5.00 per goose, 3$ per duck for any birds taken to the processor to be made into assorted prepared meats (Pepperettes, Summer Sausage, Goose Hams, Jerky, and Goose Pies).
No charge for birds cleaned and packed with wing attached for transportation purposes.
Individual Hotel Rooms -$55.00 extra for each individual room
Airport Pick-Up/Drop-off – $100.00 each way (Ottawa), $150 each way (Montreal)
Taxidermy:
In partnership with "First Light Taxidermy" we are proud to offer hunters the ability to have their trophy birds mounted by a great Taxidermist. You can simply leave your bird with us and we'll make the arrangements.
For Canadian Hunters finished birds can either be shipped or you can pick them up on your next hunt.
For American hunters we aren't able to ship birds into the US. They must be taken back into the US by you.
Prices:
Duck – $200
Small Goose (Cacklers & Ross) – $300
Medium Goose (Snows, Blues & Specks) – $400
Large Canada Goose – $475
Mounts can either be standing or flying
Information for your Hunt
Ontario Non-Resident Hunting Licene
Out of Country hunters will need to fill out this firearm declaration (this will save you time at the boarder crossing if its filled out)
Make sure to bring your state/province small game hunting license, or hunters certification required to get an Ontario Small Game license. (does not apply to Ontario customers)